---
Managing your internet data usage
---
Information on apps and activities which impact your internet data usage.
---
Activities that consume data
---
Everything you do on the internet consumes data, some activities consume less while others could consume lots of data.

If you find you are consistently exceeding your monthly data allowance, consider upgrading your plan to a Home Essential Bundle where unlimited data is included. You could also add an additional 1 TB of data for $25 per month or take unlimited data for $50 per month.

All prices exclude applicable taxes.
| Data Usage Activity | Approx. Data Usage |
| --- | --- |
| Watching Netflix in 4K / UHD | 7 GB per hour |
| Watching Netflix in HD | 3 GB per hour |
| Watching Netflix in SD | 1 GB per hour |
| Downloading movies | Approximately 700 MB (depending on the length of the movie) |
| Video conferencing | 200 MB per hour |
| Streaming audio | Up to 100 MB per hour |
| Uploading/downloading large files | Over 100 MB |
| Online gaming | From 25 MB per hour to 200 MB per hour (depending on the game) |
| Email | 30 MB per 10 emails with attachments |
| Web browsing | 250 MB per 250 page visits |
---
Controlling usage
---
The best way to predict your future needs is often to look at your current and past usage.

You can track your data usage to ensure you are on an Internet plan that meets your needs:
Log into My Mascon
Click on View Internet Data Usage
Or call 1.866.832.6020 to speak with a Customer Service Representative who can inform you of your usage and advise.
---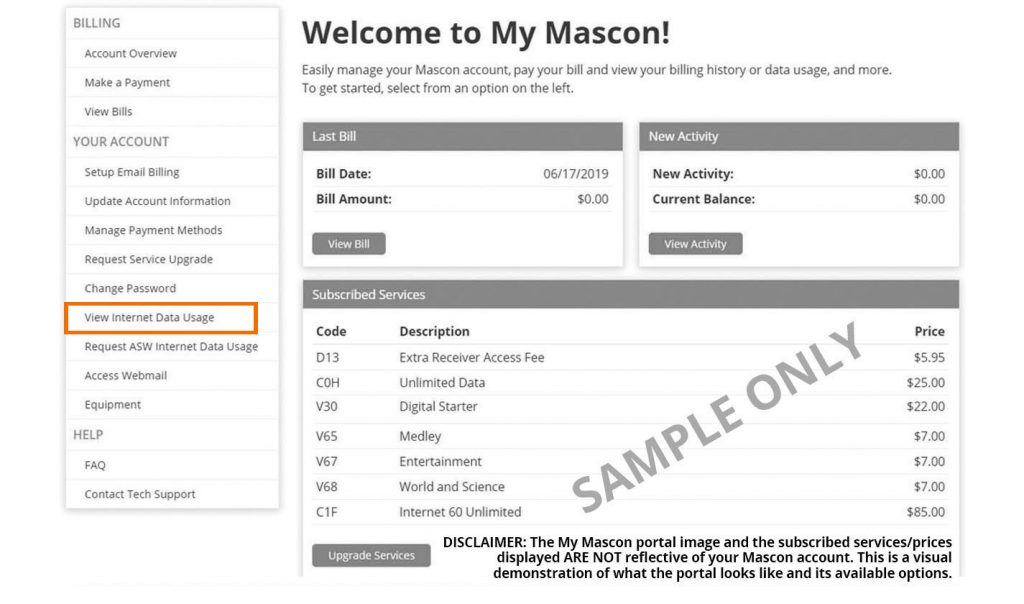 ---
Managing data usage when streaming video
---
Streaming video is often the biggest contributor to Internet data usage. So understanding how it works is especially important.
Most video streaming services allow users to control video quality – which has a direct effect on data usage. Be aware of two factors:
Both YouTube and Netflix have an Auto setting. If selected, the streaming service will deliver the optimal quality setting, based on the speed of your Internet connection.
If you have a very fast connection, a higher quality signal will be delivered.
If you upgrade your Internet speed, your data usage may increase. This is because the faster speed allows for a higher quality image, which in turn consumes more data.
Netflix

With Netflix, your settings can only be adjusted on the Netflix website.
YouTube
On YouTube, a quality selector tool appears directly below the video frame, as shown below, selecting a lower quality video stream will reduce your data usage.
---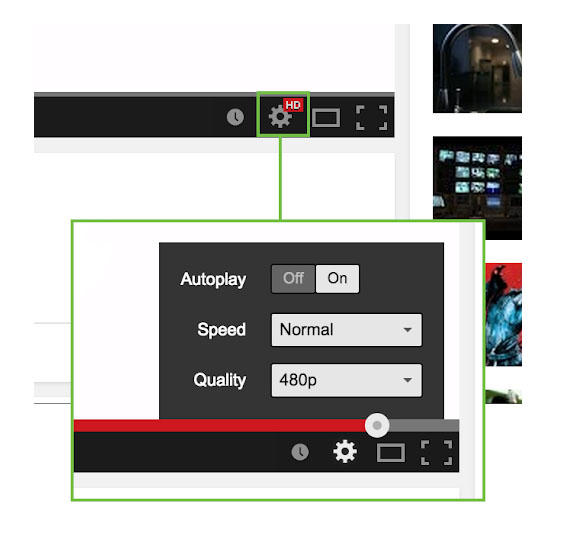 ---
Understanding your data allowance and charges
Information on monthly internet data allowances and overage charges

Mascon provides a wide variety of internet options to meet your varying needs. Each plan comes with a monthly data allowance. See below whether your Internet plan aligns with your usage.
---
Mascon Internet Plan
Monthly Data Allowance
Typical
Uses
Overage
Charges
Internet 240
2 TB
- Heavy use of video streaming, online gaming, downloading of large files with multiple users on multiple devices
$0.15 per GB
Internet 120
1000 GB
- Heavy use of video streaming
- Regular online gaming
- Frequent downloading of large files

$0.15 per GB
Internet 60
600 GB
- Multiple users on multiple devices
- Video chatting/conferencing
- Moderate use of streaming video/audio

$0.15 per GB
Internet 20
350 GB
- Some online gaming
- Regular use of social media

$0.15 per GB
Internet 10
200 GB
- Light web browsing, shopping, banking
- Emailing (without huge attachments)
- Viewing some YouTube videos
- Occasional Skype use (voice only)


$0.15 per GB
AirSPEED 25
500 GB
- Streaming video/audio
$0.35 per GB
AirSPEED 10
300 GB
- Regular use of social media
$0.35 per GB
AirSPEED Wireless Ultra
120 GB
- Light web browsing, shopping, banking
- Emailing (without huge attachments)
- Light viewing of YouTube videos

$0.35 per GB
AirSPEED Wireless Home
70 GB
- Very light viewing of YouTube videos
$0.35 per GB
AirSPEED Wireless Lite
40 GB
- Very light web browsing, shopping, banking
- Very light emailing (without huge attachments)
- Very light use of social media applications

$0.35 per GB