---
Save up to $410 for back to school!*
---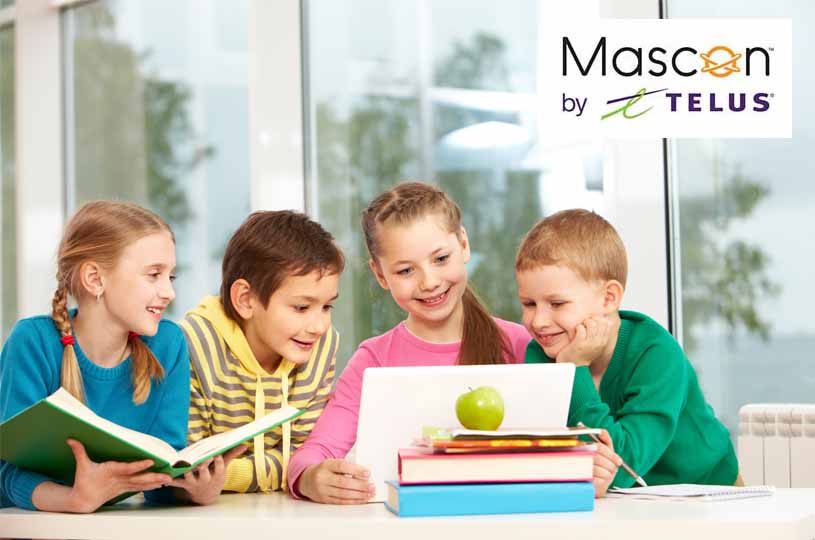 Big savings for back to school!
Sign up for Mascon Internet or upgrade
your speed to save BIG!

You'll get UNLIMITED DATA on all plans, pay no activation fee and you'll also get $10 per month off for 6 months!
That's up to $410 in savings!*
---
---
---
All prices exclude applicable taxes.
* Highest plan available in Tahsis
** Highest plan available in Skidegate, Daajing Giids, Barriere, Burns Lake, Ashcroft, Cache Creek, Fort St James, Clearwater, White Lake, Anglemont, Celista, Magna Bay, Scotch Creek, Tappen, Sorrento, Gold River, Tsa Xana, Port Alice, Quadra, Sayward and Woss.
† Highest plan available in Chase, Pritchard, Nakusp, Sicamous, Fraser Lake and Vanderhoof.
---
Limited time offer. Conditions apply.

Sign up today! Call 1-866-832-6020
---
Legal
Legal:

* Limited Time offer ends, September 18, 2022. Offer subject to change without notice, and may not be combined with other offers. Eligible to new customers who have not subscribed to Mascon by TELUS Internet or TV in the past 90 days and existing customers who are selecting a faster internet speed than their current plan. Final eligibility for the services will be determined by a Mascon representative. Mascon reserves the right to make changes to or withdraw services, pricing, and duration at any time without notice. From months 1-6, the $10 discount applies to all plans, at month 7 regular pricing applies. Unlimited data will remain on the account free of charge after the promotion ends. Current regular price is subject to change without notice. The current prices can be found at mascon.ca/residential-internet. Mascon will waive the $50 activation fee during the limited time offer. Professional Installation Fee of $75 may apply to new Mascon customers. Mascon is not responsible for the maintenance or repair of facilities or equipment owned by you, and does not guarantee that the services will operate with all television sets, remote controls, home theatre components or other audio/visual equipment. The Services require electrical power to operate, which you must supply at no charge to Mascon, and you acknowledge and accept that you may lose service during a power outage unless you supply, install and maintain at your own expense a battery backup power system. Maximum speeds require optimal network conditions on a wired connection. Internet access speeds may vary depending on location, usage within the home network, Internet traffic, applicable network management or server configurations. For a description of Mascon's network management practices, please see mascon.ca/networkmanagement. Mascon, the Mascon logo and mascon.ca are trademarks of TELUS Corporation, used under license. All copyrights for images, artwork and trademarks are the property of their respective owners.
---
INTERNET INSTALLATION FEES AND EXTRAS
INTERNET INSTALLATION FEES AND EXTRAS
INTERNET INSTALLATION FEES AND EXTRAS
Professional Install – $75
Mascon will provide a professional installation including bringing new lines to the building.
Our price includes the first 150' of cable from the road and 1 outlet in your home.
Activation – $50
Activating Mascon services on your account?
A fee for enablement to get your Mascon services up and running.
If you have deactivated your Mascon account, the activation fee will re-enable your services.
One activation fee covers all services registered to your account.

Additional Outlet – $50
Additional outlets at time of install are $50.
Data Overages – 15¢/GB
Although our data limits are some of the highest in the industry, Mascon internet date overage is billed at $0.15 cents per GB.
AirSPEED Wireless internet data overage is billed at $0.35 per GB.
On-Site Service Call – $150/hr
Service call for issues that are not related to Mascon services or equipment.
Business After Hours
On-Site Service Call -$150/hr
Mascon Business Services subscribers only.
After-hours service call for issues that are not related to Mascon services or equipment.