---
Masset and Old Massett – Internet 20 is now available now!
---
Hey Masset and Old Massett Residents!
Residents can now take advantage of this special offer and get UNLIMITED DATA and a great deal with Mascon by TELUS! You can save at least $480 over the next 24 months!*
Call today to get Internet 20 with unlimited data and you'll get $20 off per month for the first 24 months of service!*.
---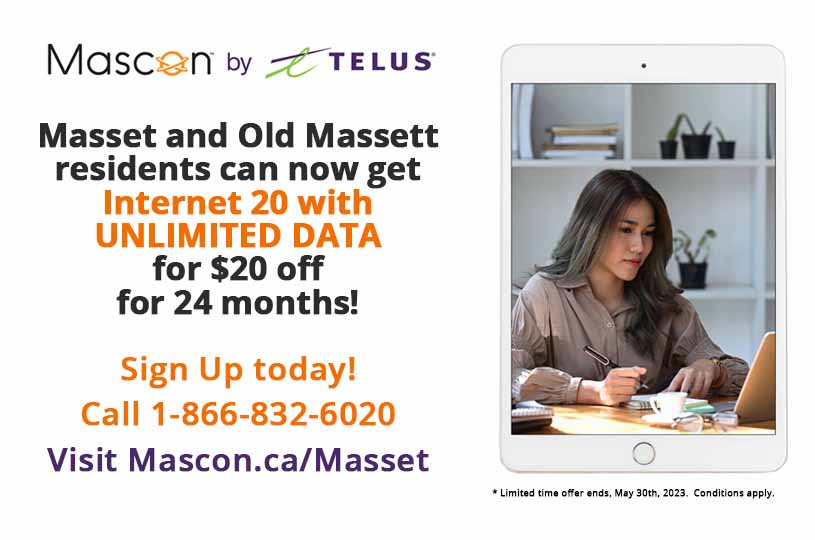 Internet 20 includes download speeds of 20 Mbps and upload speeds of 2 Mbps and with this offer you'll get unlimited data and play less than your current plan!
---
---
Check out our Internet service options below.
---
Internet Services
View available Internet Plans



Pricing effective November 1, 2022.
Professional Install Fee of $75 will be waived along with the one-time $50 activation fee.
All prices exclude applicable taxes.
* Price includes a 24 month $20 promotional discount, regular price applies at month 25. No term contracts required to get promotional pricing.

---
Legal
*Limited time offer ends, May 30, 2023. Offer subject to change without notice, and may not be combined with other offers. Eligible to new and existing residential Mascon customers, in the communities of Masset and Old Massett. Professional Install Fee of $75 will be waived along with the one-time $50 Activation Fee. Final eligibility for the services will be determined by a Mascon representative. Mascon reserves the right to make changes to or withdraw services, pricing, and duration at any time without notice. From months 1-24, the discount applies, at month 25 regular pricing applies. Current regular price is subject to change without notice. Mascon will waive the $75 charge, for all work and equipment supplied in order to extend existing Mascon network facilities to your premises during the limited time offer. Mascon is not responsible for the maintenance or repair of facilities or equipment owned by you, and does not guarantee that the Services will operate with all television sets, remote controls, home theatre components or other audio/visual equipment. The Services require electrical power to operate, which you must supply at no charge to Mascon, and you acknowledge and accept that you may lose service during a power outage unless you supply, install and maintain at your own expense a battery backup power system. Maximum speeds require optimal network conditions on a wired connection. Internet access speeds may vary depending on location, usage within the home network, Internet traffic, applicable network management or server configurations. For a description of Mascon's network management practices, please see mascon.ca/networkmanagement. Mascon, the Mascon logo and mascon.ca are trademarks of TELUS Corporation, used under license. All copyrights for images, artwork and trademarks are the property of their respective owners.