Web Presence Builder
Professional websites don't have to cost thousands of dollars, or require technical experts. Parallels Plesk Web Presence Builder makes complex web design easy. Includes: Blogs, Guest Books, Photo Gallery, Registration Pages, Shopping Carts and more!
Parallels Plesk Web Presence Builder is a browser-based application for creating and editing websites. Web Presence Builder's easy wizard provides an effortless way to create, modify and update websites without any technical HTML know-how.
Web Presence Builder is available with any Hosting package.
Contact us to add Web Presence Builder to your hosting package for FREE.
Web Presence Builder at a Glance
Site Type Selection
Choose from over 75 pre-written templates. These templates aren't just for design. They've got real content, relevant for small businesses ranging from coffee shops to rock bands, to get your site up and running fast.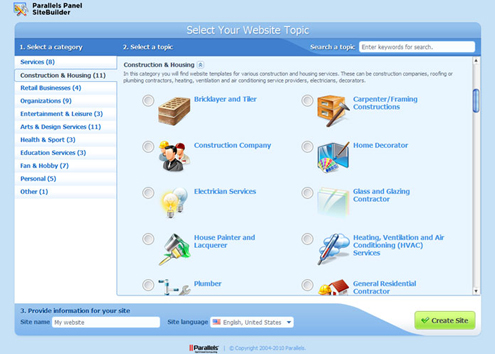 Pre-fill Your Website
Users can prefill their website with basic contact information to be used throughout the site such as your contact page. This information can be changed easily at any time.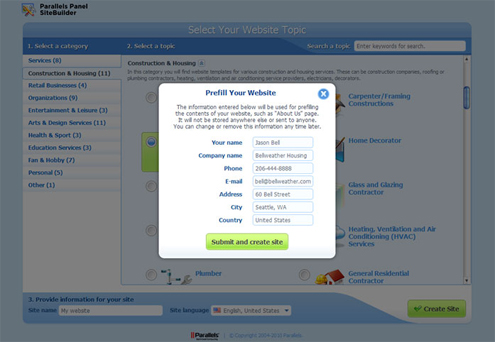 Drag & Drop/Direct Inline Editing
The built-in WYSIWYG editor works just like a word processor, so you don't have to learn any new skills. It includes drag-and-drop capabilities for easily adding images, text boxes, menu items, and more.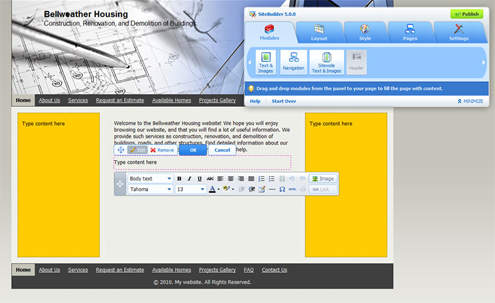 Color Selector
With the color selector, you can easily change the template's color scheme to personalize the look of your Web site.