Disable Ads on Samsung TV
Televisions used to be great for just one thing—watching TV. But a more connected world brought with it Smart TVs, devices that can access the web, stream Netflix, and even mirror your smartphone's display. And with this level of connectivity, OEMs like Samsung saw it fit to place targeted and interactive ads on your screen.
This customer intrusion was further exemplified by Samsung's recent controversy of some of their Smart TVs listening to conversations via its voice recognition software. Here's the policy notice that raised eyebrows:
"Please be aware that if your spoken words include personal or other sensitive information, that information will be among the data captured and transmitted to a third party through your use of Voice Recognition."
Yikes! While the company has clarified that their TVs only listen to commands when the feature is turned on and nothing more, folks have started to examine what else their TVs are doing without their knowledge. Which brings us back to those darn ads.
Who Said to Opt Me In?
If you don't remember accepting the terms for SyncPlus and Yahoo's privacy policy, it's because you probably didn't. Samsung opts you in during device setup, and you must opt-out on your own. Of course, Samsung states that these features enhance the viewing experience by giving advertisers valuable information to better offer you ads, but I call bullshit. Here's how you can opt out of all that "goodness."
Step 1: Decline Yahoo Privacy Policy
I know most of us have never fully read a privacy policy, but if you have the time, you should check it out. However, if you simply want avoid having Yahoo Fantasy Sports ads pop up during the next game, all you need to do is decline Yahoo's Privacy Policy.
Press the menu button on your Samsung remote, Galaxy device, or iPhone, then select Smart Features -> Terms & Policy -> Yahoo Privacy Policy and uncheck "I consent."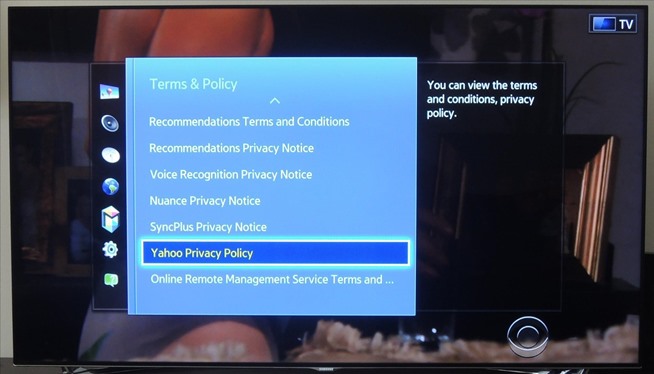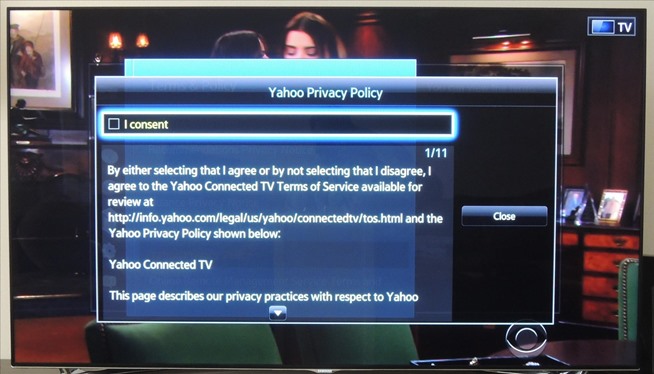 Note: Your model may say "I disagree with the Yahoo Privacy Policy" instead of "I consent." In that case, make sure to check the box.
Step 2: Decline SyncPlus Privacy Policy
Additionally, you can decline the SyncPlus privacy policy to avoid those interactive pop-up ads. Using your remote, select Menu -> Smart Features -> Terms & Policy -> SyncPlus Privacy Notice and uncheck "I consent."
You can also disable these features by going to Menu -> Smart Features -> Apps Settings -> SyncPlus.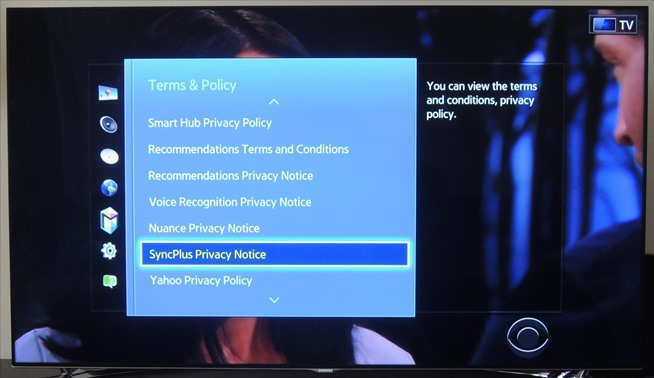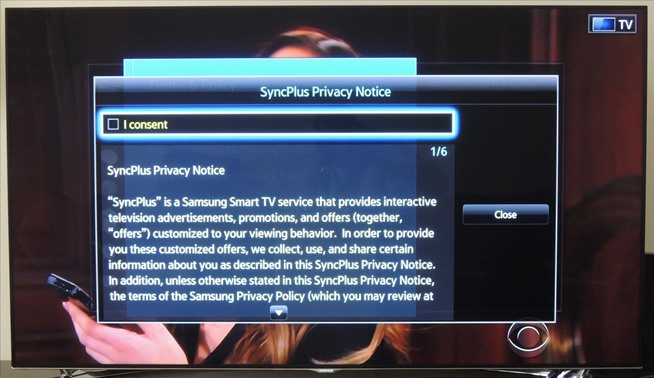 Note: Your model may say "I disagree with the SyncPlus Privacy Notice" instead of "I consent." In that case, make sure to check the box.
With these options now disabled, you can enjoy the conventional ads every 10 to 15 minutes.